Hola! Como estas? Estoy bien! If you don't know any Spanish let me simply say "Hello! How are you? I am fine." I have always wanted to speak Spanish. I took German in school because everyone else was taking Spanish. But now I have a greater use for Spanish! My husband and I both knew that we wanted Little Britches to start using a foreign language curriculum soon to begin learning Spanish. As soon as the opportunity to review Mango Languages came up, I wanted to give it a try.

Mango Languages
is an online foreign language curriculum. Some people might be familiar with their name, as they got their start by offering language courses through library systems and have been running this successfully for seven years. They are pleased to be incorporating a new program geared to...the homeschoolers!
Mango Languages
is now offering the
Mango Homeschool Edition
. The
Mango Homeschool Edition
grants you access to over 60 different languages from the "usual suspects" of German, French, Spanish and Latin...to the more exotic of Hebrew, Greek, Portuguese, Croatian, Bengali, Irish and more! Did I mention you could learn to speak Pirate?! LOL! Seriously, I think that if there is a language you want to learn, I'm sure you will find it at Mango Languages!
1 subscription is $18/month or $125/year total
2 subscriptions is $28/month or $175 /year total
3 subscriptions is $38/month or $225/year total
4 subscriptions is $48/month or $275/year total
5 subscriptions is $58/month or $325/year total
A subscription is one "user". Anything over 6 subscriptions is a special group rate which
Mango Languages
can provide you with more details on.
Here are some of the things that the website offers:
*Over 60 different languages
*Progress Assessments

*Built-in journals, discussions and wikis
*Collaborative learning spaces
*eNote messaging
/chat rooms

*Access to embedded/downloadable content
*Support from other community members
*Calendars to schedule meetings or study groups
Over the next several months,
Mango Languages
will be introducing other exciting features like:
*Enhanced Tracking and Progress Monitoring - including seat time (for students and parents)
*Goals and Personal Lesson Plans (both stand-alone and tied into Mango courses)

*Resume and Portfolio Builder
For this review, I received a year long subscription for Little Britches and myself. We were allowed to pick any of the languages that we desired. I chose Spanish (Latin America) for Little Britches. I also went with Spanish (Latin America) for myself, with German as a secondary language.
How Do You Get It Set Up?
As soon as we received our login emails, I made a point of watching the "how to" videos provided by
Mango Languages
. These short videos helped explain how to navigate the site and were very useful to reference later. I continued to our account where I set our accounts up for each language. To pick a language you need to visit the "The Commons". When you click on this link, it takes you to the Mango Language Course Directory.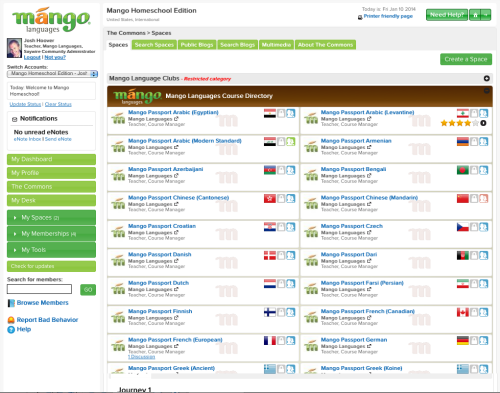 Here in this directory, you get to view the complete list of languages that are at your disposal. Each language has a few icons that go with it. The first one is a flag. This flag matches the country where this language is spoken. The second icon is a lock, showing you that the space is private and not public. The third icon shows your membership with that language. It will be green if it's a language you are signed up for. Some of the languages also have ratings.
If I desired to learn more about any of the languages, I simply clicked the language name. This took me to a more detailed description of the language.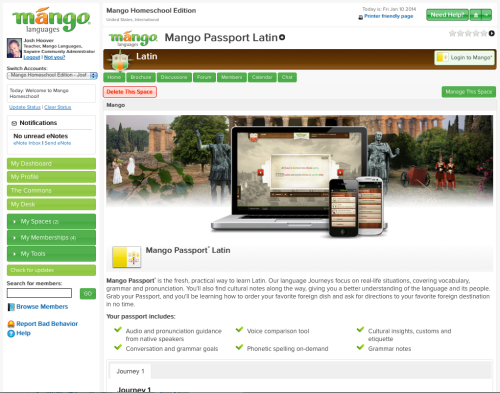 I learned that each language was called a "Passport". Once you clicked on the language description it gives you details about what your language will involved. This includes a little summary that shares how many people in the world currently speak that particular language and the countries that it is spoken in. At the bottom of the screen under the list of what the passport includes, it will tell you how many "journeys" are available. I have come to learn that journey's are like "levels". You move to the next journey once the first one has been completed. Some languages have just one journey (like Latin and Hebrew), other languages have several...Spanish (Latin America) offers three and German offers four. It is here you might also see a tab that says "files". Some of the languages offer extra material in the form of printouts to assist you with the language. This could be printable flashcards, grammar helps, or anything else useful for beginners.
Some languages offer a demo. This is great if you are undecided about a language and want some examples before making your decision.
To pick a language, you simply click "join this space" on this page and it takes you through a few confirmations (that you REALLY DO want to join this space) and you are good to go!
Once you have joined, your language gets listed in the left sidebar on your account homepage under "Manage Memberships", making for easy access whenever you log-in. To get started, you click on your language membership and then you will see where you can log-in to your language.
You will need to have the following to use
Mango Languages:
*microphone, whether plug in or part of your computer
*javascript
*updated version of Adobe Flash Player
When you log in, the program will check for these things before opening up the language.
Mango Languages
is not dependent on a particular operating system and should work well on whatever you are using it on. There is nothing to download as long as you have the three things I mentioned working.
How Did We Use Mango Languages?
I first want to share that our review version of
Mango Homeschool Edition
is a beta version...this means that it is still changing and that I didn't have complete access to some of the things that will be part of the program once it's complete. Some of the languages aren't as detailed (yet) and there are a lot of things that are going to be tweaked over the upcoming weeks and months. I am sharing with you what we DID use and if there is something that I know will be available I will make mention of it as needed.
I scheduled our language lessons as a four day a week subject. Each lesson typically took 30-40 minutes depending on the speed that Little Britches was able to progress.
Each language is set up with journeys. Each journey is set up with chapters and each chapter has a set of lessons. Each chapter's lesson begins by sharing you what the conversational goals and grammar goals are.
Click to enlarge
I found these goals very helpful as I evaluated our progress.
Now as you click to start your lesson, the first thing you see is a dialogue. This dialogue gives you an example of what you will be able to say and understand by the end of the lesson. It is first listed in English so you can see what is being said, then it is translated and verbally spoken in the language of study.
From here the lessons begin. There is a narrator who introduces the words that are being taught. There is also a second voice which demonstrates the language. Once the speaker is finished, you are then asked to say it yourself. There is always a "replay" button if you missed it. You can also hover over each of the words to see a pronunciation guide. Finally there is also a microphone icon. If you click on this, you have the chance to say the passage into the microphone and then compare it to the speaker's voice. Little Britches really liked doing this to see how he compared.
This process continues with each portion of the lesson. There is new information, and then that information is reviewed several times. The new information is then added to previously learned information so that you continue to work on words and phrases learned earlier in the lesson. When the narrator is asking you to say something you have worked on, you will NOT see a microphone. Instead there is a stop clock at the top of the screen. You have 10 seconds before the speaker says it for you; but, you have the option of "adding more time" or just "show the answer". This is useful when you think you know the answer but just need more time to think.
Scattered throughout the lessons there are grammar lessons to help you learn things like genders if your language has them.
Once the lesson is done, you get a badge on your chapter list and it will move you to the next lesson and the process repeats. When you log-in, you will be taken to the last lesson you worked on. This is very handy. When the chapter is complete, there is an assessment on the chapter which will give you a score. It is NOT verbal but rather allows you to demonstrate your knowledge by building sentences or choosing proper endings for words.
Because each chapter has 4-5 lessons you could easily do one chapter every 1-2 weeks. This works great if you have a student who is understanding what it being learned...however, this is not the way it worked for us.
Because I had a feeling that Little Britches was going to need guidance on this, I did each lesson the night before I was going to introduce it. This not only taught me the information, but allowed me to have a heads-up on tricky pronunciations or grammar that would need additional explanation. I logged Little Britches in each day and then he was able to click through the lesson. He learned very quickly how to work the microphone, how to check pronunciations, and how to add more time to his lesson if needed. I tried to stay nearby (usually doing something in the kitchen) so I could hear his lesson. If I felt he needed to repeat anything I'd have him repeat it to me before continuing on.
We ended up only completing one chapter over the weeks we did the review. It took a LOT of review of the lessons for him to remember what he'd learned. Once I picked up on this I would have him double up reviews--and this became our schedule:
Monday: Lesson 1
Tuesday: Lesson 1 again
Wednesday: Lesson 2
Thursday: Lesson 2 again
The next week looked like this
Monday: Lesson 1 review
Tuesday: Lesson 2 review
Wednesday: Lesson 3
Thursday: Lesson 3 review
At this point, I made us some flashcards with the words and phrases we'd learned thus far. One side had the words/phrases in Spanish, the other side the translation.
I asked him to say it in Spanish and then tell me what it translated into. This did help a lot in his retention and I changed our schedule to add them in.
The following week:
Monday: Flashcards
Tuesday: Lesson 3 review
Wednesday: Lesson 4
Thursday: Lesson 4 review
There were only 4 lessons in our first chapter...at this point I didn't feel like the retention was there at all, so for the rest of the weeks in our review I had him re-watch the lessons and continue to review the flashcards. I also worked the phrases and sentences that were learned into our daily conversation. I allowed the final assessment test after a week of review and he received an 80% on it which I considered to be a passing grade...especially since I had received the same score! LOL!
We have now moved into Chapter 2 at the writing of this review and we have followed the same routine that I set up for Chapter 1.
What Are My Thoughts?
I'm a mixed bag on the
Mango Homeschool Edition
program. After using it as an adult student and as a young student, I have come to these conclusions:
#1 This is a GREAT program for ME!
I enjoyed every lesson and quickly picked up what was taught. I felt that it moved at a great speed (for me) and that it was useful immediately with what was being taught. I enjoyed my first chapter of Spanish so much that I signed up for the German too. If you remember from the beginning of this post, I have German language background. I took it for 2 years in high school and then a year in college.
Something else that I liked about
Mango Languages
is that each of the languages (except pirate!) offers a placement quiz. You can take the quiz and it will continue to ask you questions in the language you are assessing yourself until you are answering more incorrect than correct. It will then give you a placement for the language. The creators of
Mango Languages
suggest that it's not 100% accurate, but a best guess based on your demonstration of your knowledge. Remember that there is no verbal testing. I felt that my placement for German was fairly accurate. (if I remember right, it placed me at about a Journey 2 Lesson 12 or so). This is very useful for someone who just wants to bring a "rusty" language up to speed.
I plan on continuing using
Mango Languages
over the upcoming year to continue my Spanish studies and work on my German. Who knows? I might tackle something else too!
That's something else I love. You don't have to stick with one language. You can try as many as you like!
#2 I like that most of the languages have files to go with them so you can print off course guides.
These contain every single thing that is taught including the narration. This is great to reference--especially if you don't have a tablet or other easily portable device. Simply print off the guide and you can take it with you and practice!
#3 This is NOT a good match for Little Britches.
I feel that this curriculum is geared towards a 13+ age. There are no pictures. No videos. It's adults speaking. It's all reading and just repeating words. There is no interaction with native speakers. There are no worksheets for further review. And there are no games. Frankly, he found it boring. He also felt that it went too fast. The person who was speaking the language always spoke quickly. There was no way to slow it down. He also had no way to evaluate whether his pronunciation was correct unless I told him so.
Part of the program includes the narrator at times saying "Isn't this easy?" and I found Little Britches regularly telling her "No!" LOL!
#4 I was surprised to find that Baby Britches was learning from it.
The repetition of hearing the lessons really seemed to work for him, even though he wasn't the one learning it! He always sat next to Little Britches though. Eventually he had learned enough that I caught him saying answers when Little Britches hesitated! Though his pronunciation wasn't always the best! LOL! I loved hearing him say "Ben knows Nachos!" for "Buenos Noches" and "Pasta Lego!" instead of "Hasta Luego!" (giggle)
#5 The quizzes need to be available for printing and there needs to be more printable resources in general for each language.
At this time you can only take the quiz and get a score. You cannot see what you missed, nor can you print the quiz out. I really wanted this as I was sure I had aced the test and wanted to see what questions I had answered incorrectly. The creators of
Mango Languages
have shared that they are working on this to make those options possible and that this issue is a priority for them, because of the demand. This is also true with the printable resources. Not all of the languages offered things like flashcards and there is no writing instruction to the languages. It is strictly learning to speak it. I believe that this really needs to be added as part of the program.
#6 There is no way to verify if you are saying something properly.
Though the microphone does record your words for you to compare to the speaker, there is nothing to tell you whether it actually is correct or not. Languages like German and Spanish have a tricky accent and rolls of the tongue and I feel there needs to be a better way to teach that.
#7 At this time, I didn't find anything else provided by Mango Languages as part of the Mango Homeschool Edition to be useful to either me or Little Britches in our learning.
There is a community available with a forum for chatting or asking questions. The creators have advised that this portion of the program is still under construction and an ultimate goal is that a student will be able to have greater interaction with others learning the same language and with native speakers. This would be nice to have, but I still don't know if we would have used it.
#8 I would love to see Mango Languages become more kid-friendly.
It would require more work by the creators, but I think it would be very beneficial, especially considering this program is promoted to be for ages 6 to adult. I know that my son would have enjoyed it more if it had been more visually pleasing, and at the least had videos or games.
What Is My Overall Recommendation of Mango Languages?
If you have an older student (age 10+) or are an adult looking to review a rusty language or something new, than I think this is a great program and recommend it wholeheartedly!
If you are looking for a language program for a young student, I recommend it
with reservations
. I think it will depend on your student. If they work well with programs geared to a variety of ages, without illustrations and games, then
Mango Languages
might work for you! If your child does better with a program geared to a young learner with printables, interactive games, and videos...then I think you might need to find something else...or just do the 30 day free trial to see how it goes.
Our family will continue to use this program over the year--but I will be making changes for Little Britches as the way the program is now isn't working for him. I'm going to have to find and/or create something else to help him with better retention of what he is learning.
*****
You've read my review...but make sure you also check out what some of my fellow crew members had to say about
Mango Languages
after they used in their homes!


Make sure you visit my Curriculum and Product Reviews tab at the top of my blog so you can stay caught up with all my reviews!