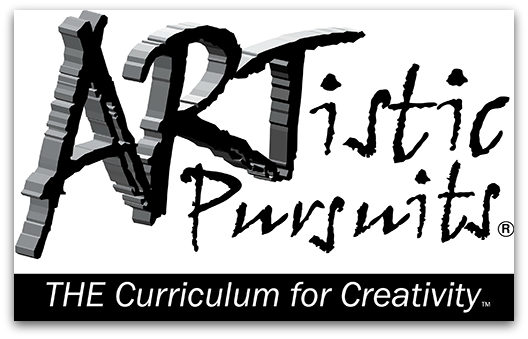 Through their program, they encourage children to look at the expressive and technical aspects of art according to their age level. The goal is for the children to be able to be free to explore their world however they see it...not the way that adults think they should see it!

Each book has a comb binding, is non-consumable and sells for $47.95.
One set can serve your entire family.
ARTistic Pursuits recently released two additional books for their art curriculum family:
These books are recommended for ages 11-18 and sell for $47.95 each like the other books.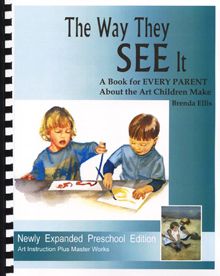 How Did We Use It?
The first thing I did when we received the book was flip to the table of contents page to get an idea for what kind of art lessons would be included.
It is very simply laid out. The first column tells you about the lesson and then second column shares what kind of art project will be done with it.
It was VERY useful to find a page that talks about all the supplies that are needed to complete this curriculum. They list some specific brand names, but also encourage you to make your own fingerpaint or dough too.
I decided that the best way to go about starting using this curriculum was just to start with the first lesson. Each lesson is three parts: Information to the parent on children's development in art (called Grown-up Talk), the lessons for the child including some sort of visual art element (Picture Talk) and then the actual art project for the child.
Each time we were doing a lesson I always read over the Grown-up Talk first, then I looked over the lesson and project for the day. I prepped by just pulling out whatever we were going to need for the project.
As soon as I told Baby Britches we were going to do art, he flew over to the table. His eyeballs got huge seeing the big box of crayons. "For me??!" He was very excited when I told him it was.
The first lesson included having me show him a beautiful painting (circa 1620!!) of a flower bouquet and encouraged him to notice the colors of the flowers. Then the dialogue asks the child to find other details from the painting, like the shells and small bugs. He naturally noticed most of these without me even asking him. Once I started asking questions he just started talking about everything relating to the illustration.
Once I figured we had analyzed the painting enough, we moved on to the art project itself. This first lesson was a drawing lesson using crayons. The goal--for him to be inspired by what he saw in the painting and draw what he sees.
The first response to my instruction was: "I tan't! You need help me do it."
I guided him to look at the picture and find some crayons that matched the colors he saw. So he eagerly opened up his new box of crayons and picked a few colors. Then while having the book open to the drawing next to him, I encouraged him to find things about the painting to add to his paper. Once he got started, I didn't have to offer him much more assistance. It helped him that I had my own paper and I was doing the same thing next to him.
You can see that his version of the painting isn't quite a match...so to encourage him to share what he drew, I took a video of him telling me about it. Thanks to allergies he had a stuffy nose, but you can understand him pretty well.
I was impressed that he found the lines in the photo from the stems of the flowers and the little straight grassy things...And did you catch that there was a dinosaur on there too? LOL!
We completed about one or two lessons per week so we were able to hit on several of the lessons in the book. Here are some photos (and videos) of the lessons we worked on--we jumped around so we could try different materials:
(I had to smile when he pointed out his Kangaroo Cloud...)
We made our own fingerpaint and Little Britches had to do it too
I read "The Little Steam Engine that Could" and he colored a picture to match what I was reading.
We used our homemade dough and rolled it flat with dowels. I brought Baby Britches a collection of items and had him push them into the dough to see what kind of impressions they made. We did a gumball seed pod, a pokey rubber ball, dice, impressed pennies, and more.
I am most proud of this project. It was his first ever actually drawing of a vehicle. For this one, he had to draw what he saw looking at his favorite toys. This is a picture of an orange cement mixer and a John Deere tractor.
His finished puppet makes me giggle. He loved having all the materials to choose from. And that he got to cut all his paper.
* Guided Curriculum w/lesson
* Complete Material List included AND no expensive materials (for our preschool book)
* Partnered with an online art materials site for easy purchasing of the art supplies with just a single click
* Different types of art projects from doodling to sensory (fingerpaint/dough) to craft (puppet) to paint
* Includes recipes for homemade paints and dough
* Introduces child to real artists work (the Picture Talk) in each lesson
* Non-consumable
* Comb Binding
* Includes section on just teaching basic skills like cutting or holding a pencil/crayon properly
* Open Ended to allow you to add more child led dialogue
* Lessons can be done in any order
*Price
In summary, this curriculum is very well done. Everything is laid out very clearly and concise. By pre-reading each lesson you know exactly what you need and what to do. Each lesson is short and easy to understand. There is a full range of art projects to be completed that can be done over and over if you desire. The book is non-consumable which means you can use it for your family without needing to purchase more. The materials called for in the book are all already on hand, or are easy to acquire with little cost. There is enough guidance that someone who needs lesson plans can be happy, but there is limited dialogue to encourage the child led art which is great for those who prefer child led education.
In all fairness, the only con I can come up with would be the price. For some families, paying $47.95 for an art curriculum book might be expensive. But when you consider that the book is non-consumable and able to be used for a wide range of students, and that it has guided lessons it is a very good buy. At first glance I wasn't sure if the price was worth it, but after using it I have changed my mind. I let my mother-in-law (the Art Major) look it over and she put her stamp of approval on it too for it's completeness in teaching, not just expression in art, but where the creativity comes from in the world around us.


***