With a reluctant writer on my hands, I am always looking for grammar/writing curriculum that my eight year old (3rd grader) will enjoy. He prefers things that are short and allow him a lot of independence...oh and not much writing. When I heard about a great grammar program that integrates basic writing skills as well as encouraging vocabulary, I was very intrigued. I looked forward to my review of the Fix It! Grammar: The Nose Tree [Book 1] Teacher Manual and Student Book from Institute for Excellence in Writing (IEW).
Product Information

Institute for Excellence in Writing (IEW) is a company with roots that go back to a Canadian primary school teacher in the 1930's. The idea of a phonics based reading and writing program was enhanced and adapted in the 1970's by that primary school teacher's nephew, in an effort to teach college students how to write properly. In the 1990's, the current director of IEW brought the concepts to North America and Institute for Excellence in Writing was born.
The program's main focus is to successfully equip students of all ages, ability--even those with special needs or ESL students--to not only build written and oral communication skills, but also improve critical thinking.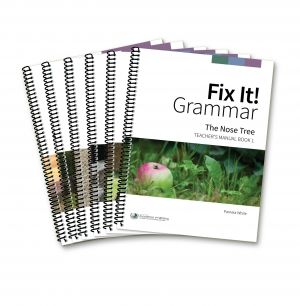 One of their newest additions to their curriculum is the Fix It! Grammar series. This daily grammar work series is geared for grades 3 and up. In this series, students work on grammar in bite sized pieces--just one sentence a day! In these books, students will hunt for and correct grammatical errors in daily sentences, which when put together, tell a story.
There isn't just a grammar lesson, there is a daily vocabulary that gets researched and recorded. In addition, every day once the student corrects their sentence, they write it down with the corrections, and in doing so, write a complete story by the time the curriculum is completed! This allows the students to use their new grammar skills in context, which in turn allows them to transfer these concepts into their own writing.
Are you worried that your student might know too much grammar for these to be of use? IEW has a placement test for you to see which book in the series is the best starting point for you! Here is a link to a Fix It! Webinar to help you see how the program works!
Here is the list of titles in the Fix It! Grammar series:
Fix It! Grammar: The Nose Tree [Book 1]
Fix It! Grammar: Robin Hood [Book 2]
Fix It! Grammar: Frog Prince or Just Desserts [Book 3]
Fix It! Grammar: Little Mermaid [Book 4]
Fix It! Grammar: Chanticleer [Book 5]
Fix It! Grammar: Sir Gawain and the Green Knight [Book 6]
Each of the spiral bound teacher manuals retails for $19.00. Each teacher manual includes a download of the e-book version of the student book. Printed spiral bound student books are also available for $15.00. The entire collection is available for purchase for $89.
After looking at the placement test, I opted to start with the first book in the series.
We were given the Fix It! Grammar: The Nose Tree [Book 1]Teacher Manual and the spiral bound printed Fix It! Grammar: The Nose Tree [Book 1] Student Book to review.
How Did We Use This Product?
Once I received our product, I went to the beginning of the teacher manual to read about the set-up. It was very basic. To use this program you will need the following supplies in addition to the curriculum books:
*3-Ring Binder or notebook w/ dividers
*Notebook paper
*Scissors
*Envelope
* Access to dictionary--either paper or e-book form
These are all supplies we keep on hand, so it was easy to finish getting the product ready to use. The binder is where Little Britches will copy down his rewrites of the daily sentences and keep his vocabulary list.
The Introduction Page--gives all the information you need to get everything set up.
These are the only two things that are needed once set up.
Because we have the printed version of the student book, we only needed these two sections in our binder
Once we got everything set up, we read through the information detailing how the curriculum would work. This is printed in the teachers manual AND the student book so it's easy for them to follow along if you are reading it to them.
After reading about the way the program worked, I noticed that the directions for the rewrite included things that were going to be something new. Up until this point we hadn't been working on writing double-space, nor with an emphasis on paragraph indentation. We also had to discuss margins on paper. I was very happy to have this laid out for him to learn now.
Once we got the set-up completed, we moved on to the first lesson. Each week has a "learn it" page that explains the grammar that is going to be covered and gives examples.
It also notes things like "cut out your grammar cards for week _". The grammar cards are included in the student book at the back and are clearly labeled by week.
Little Britches kept them in an envelope--but kept misplacing the envelope. So I hole punched it and he keeps it right in his binder for quick reference.
The first step for each day is to read the sentence out loud--either you or your child. Little Britches easily did this--needing help usually just for the new vocabulary words. As we continued on, I had him read the story completed to date from his re-write. He liked this AND it help him find areas where he might have forgotten to copy a word or end mark correctly.
The vocabulary words were always bolded in the each sentence. Sometimes it was a phrase like "in due time" but it was usually a single word. The second step in the daily work is to look up the vocabulary in the dictionary and find it's proper meaning as fitting for the sentence. Dictionary work is new for us...but he quickly caught on and now enjoys it.
He copies his vocabulary into his binder. I have him start each week writing "Week _" and then each day he writes "Day _" and then the word. Then he copies the definition.
We had to make changes and revise our format to make this more legible. We now have it with double spacing between each vocabulary word and clear separations between weeks and days.
I was happy that I always have the vocabulary word with it's definition in my teacher manual for quick reference. Sometimes we had to restate the one from the dictionary to make it work.
Speaking of the teacher manual...it is very easy to follow. There is a guided dialogue to help you (if you need it) each day and all the information you could possibly need to teaching the lesson is right there--from the corrections on the sentences to explanations for each grammar marking. And yes, the vocabulary and it's definition. There is also advice about how to work with an advanced learner.
Once the vocabulary is recorded, Little Britches works to correct the sentence and mark the grammar. He found this very easy to do, especially as he realized it was something we had worked on previously.
Once everything has been corrected and marked, he moves to the rewrite. Our first few days of rewrite were very sloppy as he struggled to understand what was expected of him. As I mentioned above, it was new for him to focus on indentations (as they are given in the story) and the double spacing. We also hadn't really spent time learning how to write on regular notebook paper (wide-ruled). But he really worked hard and is proud of how "neat" his rewrite looks at this point.
Once we went through the first week of the program, it quickly became "old hat" and now 6 weeks in, we fly through it each day.
I did notice a typographical error in the teacher manual for week 5, but it isn't anything really major...just enough to throw me off when I first looked at it. You can see that the grammar notations are slightly off.
It's something that I would like to see fixed for subsequent printings of the book.
What Are Our Thoughts On This Product?
Little Britches:
"I like doing just one sentence each day. I like that it's easy because i know about nouns and stuff already. I like learning the new word, but sometimes I already know it! I think the story is fun. Oh and i can do most of it by myself."
Me:
Pros
*15 minutes per day lesson
*Each lesson is one sentence per day
*Reviews parts of speech with lots of repetition
*Has grammar cards for reference
*Each sentence builds a story
*Teaches vocabulary every day
*Encourages dictionary work
*Teaches double space writing and paragraph indentation
*Spiral bound manuals and student books
*Teacher manual is easy to read and use
*Once set-up (which is easy), it's open and go every single day
*Easy 4 day a week curriculum
*Promotes independence for the student
*Reasonable cost for quality of product
*Easy to read font
Cons
*Typographical mistake in Teacher' Manual (minor)
*Possibly too easy for a student who already has grammar experience
In summary, there are WAY more pros than cons! I was beyond pleased with this product. I came into it hearing great things about Institute for Excellence in Writing (IEW). I wondered if it was as good as it was said to be...and I think it is!
As you can see from Little Britches comment, this curriculum is right up his alley. He loves things that are easy to do on his own, and don't require a lot of writing. He really has started enjoying the vocabulary part and he has taken to using the dictionary. He really enjoys trying to see if what he thinks the words mean, really match the definition and gets excited when he's right. He also has peaked ahead to read what happens next in the story--he really likes that he's writing out a story.
What would I change?
Nothing. I think it is simple to use, teaches a grammar lesson in an easy to understand method, encourages learning new vocabulary and does it all in an interesting and unique way. Even though he came into this already knowing about parts of speech, I have discovered that we still needed work on identifying them in sentence form.
Would I Recommend This Product?
Absolutely! ESPECIALLY if you have one who doesn't really like doing much writing or needs short lessons. Even if you have a child who does well with longer lessons, this book is very well done and keeps everything in bite sized pieces--perfect for daily grammar work. I also think that you can EASILY start this in second grade--we had begun learning about the parts of speech last year which is why this was a review for us.
Will I be purchasing any more of these books from Institute for Excellence in Writing? Yes! This one has worked remarkably well and he loves how easy it is. It will be great since we had a chance to start with book one to continue with the series. In fact, IEW has some "scratch and dent" versions of the books in their clearance section. I am going to snag me at least the next book in the series.
Want to Know More?
I reviewed Fix It! Grammar: The Nose Tree [Book 1] Teacher Manual ($19.00) and printed Fix It! Grammar: The Nose Tree [Book 1] Student Book ($15.00) from Institute for Excellence in Writing (IEW). You know what we thought of it, but there were 99 other reviewers and four more books in the series! Make sure you go check them out!

Want to know more? Make sure you stay in touch with Institute for Excellence (IEW) via their social media sites:
Facebook: http://www.facebook.com/excellenceinwriting
Twitter: http://twitter.com/iew
Pinterest: http://www.pinterest.com/iewriting
Google+: http://plus.google.com/+Iewriting/posts
You Tube: http://www.youtube.com/user/iewtv
Vimeo: http://vimeo.com/iewtv
***
***
It is so nice to have a great grammar curriculum that is loved and one where he is willing to do it every day. I hope that you will consider this program for your own family! I know that I will be checking out some of the other curriculum that IEW has to offer for future use!