If you read our review of Under Drake's Flag last year, you will know that we have been eagerly anticipating the arrival of the next audio drama by Heirloom Audio Productions, In Freedom's Cause. When the opportunity to review the new In Freedom's Cause Single Package was made available, my son urged me to hurry and try to get it! We hoped that it would bring as much enjoyment as our other audiodrama did.
Product Summary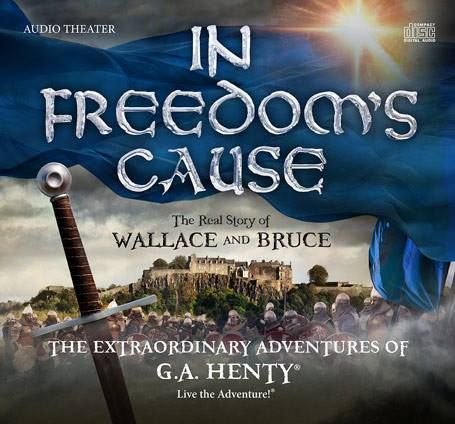 In Freedom's Cause comes from Heirloom Audio Productions, the producers of last years hit audio drama Under Drake's Flag. In this new adventure, listeners will travel back to the late 1200's early 1300's to meet the Scottish legend, hero and martyr William Wallace! Adapted from the classic adventure story In Freedom's Cause: A Story of Wallace and Bruce by G. A. Henty, the story revolves around William Wallace and his stand against the English oppression of Scotland. The story looks into the source of Wallace's passion, his faith in God. He forever changed the history of Scotland and inspired the leader who would eventually gain Scotland's freedom from England, King Robert the Bruce.
Voiced by an all-star cast including Joanne Froggatt (Downton Abbey), Billy Boyd (Lord of the Rings), Skandar Keynes (Chronicles of Narnia) and James Cosmo (Braveheart) to name a few, this production is high quality and spectacular in bringing the story to life for the whole family!
With your purchase of In Freedom's Cause Single Package ($29.97 + S& H), you will receive the following:
*In Freedom's Cause (2 CD Set - Physical Copy)
*In Freedom's Cause Study Guide (Digital Download)
*In Freedom's Cause Soundtrack (MP3 download)
*Printable copy of The Prayer Of William Wallace. (Digital Download)
I received the In Freedom's Cause Single Package to review with my family.
How Did We Use This Product?
We decided to listen to it at home this time, during our evenings and recess time. I pulled up the study guide download onto my Kindle Fire and looked over it as we listened. Each of the sections in the study guide matches scenes from the audio drama and provides questions for testing comprehension and for taking it further, encouraging further research and vocabulary words. As we went along, I just picked certain questions from the study guide that I wanted to ask--pausing the CD as we went along. We listened to the CD's on our stereo system in the house and enjoyed the surround sound effect of the battles and excellent soundtrack.
When it was over, I read the prayer of William Wallace and printed it out (it was included in the bonuses) for us to examine.
What Were Our Thoughts on This Product?
Little Britches: "I like it. It is just as fun and interesting as the other one was! I like learning about the people. It has lots of funny parts too. Like the goat woo!"
Me: I love audiodramas and I enjoyed this one. I think they are a great way to learn a bit about history and historical figures as well as character lessons. As with Under Drake's Flag, it is interesting to learn how passionately the men and women of this time were about their faith and how it motivated them to do great things no matter the consequences. With the dramatic music and character dialogue, it makes the story far more entertaining than if I was reading the book myself. Once the story was completed it definitely made me want to seek out more information about William Wallace and Robert the Bruce. When I looked it up, I discovered (as I already pretty much knew) that the audio drama took a VERY VERY VERY brutal story and greatly sanitized it (Braveheart anyone?)
Would I Recommend This Product?
Yes! Just as with Under Drake's Flag, we totally enjoyed this audiodrama. It is a great way to enjoy classic literature on the go! These CD's provide great entertainment for the car on trips (2 1/2 hrs of non-stop adventure!) and the boys continue to ask to listen to them. I value them most for the CD itself over the extra digital downloads, though being able to have the others on portable devices are great. I liked being able to have the study guide on my Kindle for quick reference--great for having in the car! I also loved having access to the bonus soundtrack that is included in the purchase. I preferred having everything either on the CD or my Kindle for easy reference.
I think that this is a valuable resource for any family and if you are studying this time period, a great educational extra! This time period was a very brutal one, but this audio drama provides a more gentle look at the events making it a great introduction to this history.
Would I purchase this product or more like it? I think I would purchase it as a homeschool resource over just entertainment. My boys learn well from audio resources in general and they remember these audio dramas very well.
Want to Learn More?
I was just one of the 100 reviewers of In Freedom's Cause Single Package from Heirloom Audio Productions. You know what we thought about it, why not head over and read about what some of the other families thought!

Want to stay up to date on things pertaining to In Freedom's Cause?
Facebook:
https://www.facebook.com/InFreedomsCause
Twitter:
https://twitter.com/InFreedomsCause
Google+:
https://plus.google.com/u/0/b/112701427096792421838/112701427096792421838/posts
Pinterest:
http://www.pinterest.com/jointhecause
***

***
Did you miss out on
reading my review of Under Drake's Flag
? It was a our first introduction to Heirloom Audio Productions and is still much loved. I am pretty stoked because we were just sent an email announcing that the next audiodrama
With Lee in Virginia
is going to be released around Memorial Day! With these two previous programs being such loved, I don't doubt we will enjoy the new release when it comes out!