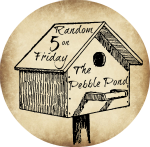 1. Plane Trip
Last week I took my boys back to the Northwest to attend my Grandma's memorial. It always takes 8ish hours to get there, even on the best case scenarios. The boys love flying and I do too. I just wish we had been going for a better reason. But we did enjoy the 5 days we were there. I don't get back there very often and seeing my extended family is always nice. The boys had fun with their cousins (second cousins actually) and enjoyed making everyone's acquaintance again.
Age: 9, 8, 6, 5, 2, 1 and 7 months
2. Memorial
Oh it was so rough. Sigh. I held it together the best I could, but having to read a poem written by my Grandma at age 15...and then sharing my best memories...it's so hard when you loved someone so much. I was so close to her. The grandchild with the most things the same. Seeing her photos and her smile. It was just hard. It always is. I was thankful for my cousins surrounding me and we lifted each other up in support.
A few of my cousins (with my brother on the end)
3. Time change
On top of the dealing with grief, I also was attempting to keep our bodies in sync with East Coast time--to make sure we kept going to bed and got up at our NORMAL time. It's difficult to do--but throw in daylight savings time, when they steal another hour...ugh! Instead of trying to accommodate for a 3 hr time difference, it was like a 4 hour one! But it apparently worked, because we were able to jump right back into our routine as soon as we got home without any issues. Woot!
4. School on the Go
Because we homeschool, we took it with us. The boys don't always like this, but we have gotten into a new travel routine, and it works. Little Britches did work on math and science using
Standard Deviants Accelerate
, as well as his continued reading of his biography, and completed pages in his Critical Thinking workbook. But the real "education" happened outside the classroom! We went on a field trip of sorts to assist in butchering turkeys! The boys loved watching the whole process, and even helping in the plucking!
Another field trip, involved a nice dinner at an authentic Mediterranean restaurant. From the tapestries and artifacts, to the cushioned/pillowed seating areas, to the pre-meal handwashing, to the authentic food and drink...it was a cultural experience to be sure! We loved trying new foods and fell in love with baba ghanouj, limonana (mint lemonade slush), and schawarma!
Lamb Shank, Arabic Tea, and a Limonana
Gorgeous tapestries and draperies everywhere!
5. Home At Last
We are very happy to be home. Reunited with Love-Of-My-Life and back in my beautiful roomy house, the countryside and our regular routine! I came home ready to cook for the fall season and have had fun exploring my cooking magazines. Today I pulled out a decadent chocolate cake recipe to make a dessert for our big annual church semi-formal dinner/dance. I made it last year with serious rave reviews and knew it was the dessert of choice for this year as well. I don't LIKE to bake, but when I do it...I do it well!
I hope you have a wonderful weekend! It's supposed to switch over to real fall weather tomorrow with highs in the 50's...not the 70's we've been enjoying. I imagine our first hard frost will happen soon. It's time to figure out what to do with our new fruit trees to prepare them for winter...and I need to dig up my dahlias to save them for next year.
But for now...goodnight!
*****