Here we are at Friday yet again, and things on the farm have been busy this week! Join me as I ramble a bit about our lives in today's Random 5 for Friday!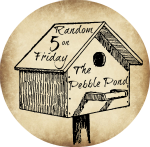 1. Our week began with SNOW! We enjoyed about 6" of snow which made it quite beautiful here on the farm! And the boys adored having more snow to play in...only wishing they hadn't broken their sled, while playing in our last snowstorm! The snow lasted through about Wednesday, though it had already started to melt thanks to the consistently rising temperatures as the week continued.
2. Next came a well-check for Little Britches! He turned 10 last week, so I scheduled him for his annual checkup. It's always fun to guess what their stats are. As of right now, he's 4'7" tall and weighs 89 lbs. He's my big boy! He also appears to be in superb health......
3. There is a big
but
to all of this...you see, after his appointment, we had to get him scheduled to take a Lyme Disease test. He was bitten by a deer tick earlier the previous week, and my husband asked for me to get him in there. So we are now praying that the test will come back negative and we can move on!
4. I have been dealing with some of the most dreadful anxiety this week. Ever. Bracing myself for the call from the doctor that will either be okay, or change our lives and what we do. At one point on Wednesday, I was such an absolute mess!
And I don't get to be a mess very easily
. But Satan was filling me full of worst case scenarios and major what-ifs. Just burdening me and weighing me down under their load of worry and fear. I just had to rush to the bedroom, hit my knees, and give it all to my heavenly Father. I cried until I couldn't cry anymore. I recited scripture after scripture about God's mercy and love and everlasting faithfulness. With tears running down my face, I told Him that I trusted Him with my son's life and that my faith will stand no matter what happens. Let me tell you...the weight that was lifted from my shoulders when I stood back up, is indescribable...unless you yourself have been there too. But we still wait. I imagine we will know next week sometime. Until then, I continue to "oil up" my boy and give him all sorts of good immune boosters. They can only help! Since my moment with God, I've been fine. He has given me that
peace that passeth all understanding
and I know He's by my side in the middle of this.
5. It's been spicy today! We have an International night tomorrow after church, and several members are hosting tables. Each table represents another country from around the world and the host will share samples of foods as well as decorate their table however they like. We were torn between Israel, Italy, and Mexico...but Love-Of-My-Life declared Mexico to be our country. Today I've been busy preparing our foods for tomorrow! I went out and purchased some red, white, and green decorations to coordinate with the Mexican flag. I found some authentic recipes, so I will let you know how they worked out!
And one extra bit of information...Baby Britches read his first REAL book today after reading his Reader One again. He read Biscuit with just minimal guidance and he was very happy indeed! Hard to believe this is the same child who was getting so frustrated at the end of 2015! I'm so glad I decided to make that switch!
***
***
Have a simply blessed weekend with your family and friends!