We are nature lovers. Living on a farm makes us very aware of the beautiful world we live in and we constantly seek to know more about it. We love learning about how the Creator loving put great detail into all that He has designed. It is hard to find good books about nature that are not filled with the evolutionary theory--something that as believers in a divine Creator, we do not hold as truth. I was very interested when I heard about a product called
Purposeful Design
by Jay Schamacker, a book entitled
Purposeful Design: Understanding the Creation
. This book supposedly focused on examining the wonders of creation, while giving credit to God for His incredible design of the world we live in. This intrigued me--and I couldn't wait to get my hands on it!
Product Summary

Purposeful Design: Understanding The Creation
is an award winning book written by Jay Schamacker, intended to bring the wonder of God's creation into the hands of children. The book reveals the principles of science that allow our world to work, and how much care and consideration our a loving Creator God demonstrated in creating it. As each day of Creation is discussed, Mr. Schamacker includes scientific explanations and details about things like the earth's rotation, the rain cycle, the seasons, the moon, bird migration instincts and more. The reader will also discover that woven throughout the book are scriptures from the Bible.
Author: Jay Schamacker
Price: $18.95
Age: All Ages

Chapters of the book:
Chapter 1 – The First Day: Creation of the Heavens and the Earth, the Foundation of it All
Chapter 2 – The Second Day: Creation of the Atmosphere and Water
Chapter 3 – The Third Day: Creation of the Dry Land and Vegetation
Chapter 4 – The Fourth Day: Creation of the Sun, Moon, and Stars
Chapter 5 - The Fifth Day: Creation of the Birds and Fish
Chapter 6 - Creation Day Six: Creation of Land Creatures and Humans
Chapter 7 – The Seventh Day


Also available with this book is
Young Explorer's Club
--a child's workbook designed to be used side by side with
Purposeful Design
. The workbook includes seven chapter activity sets and comes with a teacher's answer key.The teacher's set also includes a certificate of completion for each chapter the student completes. The book was designed to make children think and expand their comprehension on the book and it's topics. This curriculum is available as a download
free of charge
.
I was given a copy of Purposeful Design: Understanding the Creation to review and I downloaded the free Young Explorer's Club curriculum to use as well.
How Did We Use This Product?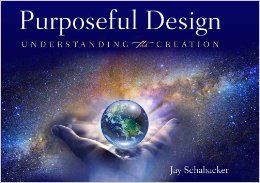 We were excited when this book came. The cover was so brilliant and blue, it just begged to be opened. It was very sweet to discover that the author had autographed the book for us.
The first time we did this book, the boys sat with me and we just flipped through all the pages eagerly examining all the pictures. The pictures were incredible and just drew your eye. The boys were so enthralled we looked at it for quite awhile. As we continued, they might say "What is that?" and we would read about whatever the page was about. We didn't spend time going through it and reading page by page because they were so excited to just LOOK at it. Here are some of the beautiful photos that are part of this book:
You can see that the illustrations are rich and vibrant and true to life. They are beautiful to look at.
As I flipped through the book with the boys, I saw that this was a book that could be used as a science resource. Each chapter of the book revolves around a day of creation. Within each chapter are mini science lessons pertaining to things that were created on that day. In Chapter 2 (day 2 of creation) there is a lesson on the atmosphere and water, including a detailed discussion on the rain cycle. Chapter 3 includes a study on plants and vegetation. Chapter 4 includes detailed lessons relating to our solar system. Every chapter is chalk full of information that can be used for any nature study!
Here are some examples:
The boys appreciated a detailed study on cows as part of Chapter 6. I appreciated an in depth look at the human body in the same chapter.
Every chapter continues to reflect back on the "Master Designer" who created everything with purpose.
Another aspect of the book is that there are scriptures interwoven throughout the chapters as they pertain to the subjects, like this one from Chapter 4--with it's focus on the solar system.
One of the boys favorite pages from the book is the book talking about God's humor in creation. It shares photos of some very unusual critters:
An interesting thing is that we had just looked through this book before our trip to Florida (where we kept our annual Feast of Tabernacles observance), and one of the sermons we heard while we were there talked about creatures that God created to live in an extreme environment. One of them was the critter at the bottom far right of this illustration, the Yeti Crab. The boys instantly recognized it from our book and were eager to learn more about it.
The book in itself is a very valuable resource, but when you pair it with the free Young Explorer's Club workbook, it nearly becomes a science curriculum. As I mentioned above the Young Explorer's Club is a free child's workbook to go side-by-side with the Purposeful Design book. It is broken down to match chapter by chapter. Each chapter of the workbook reflects on what was discussed in the book--including open ended questions, taking it further questions as well as simple fill-in-the-blank and multiple choice questions. Here are few examples:
I think you can easily see how it is the perfect compliment. There are also activity pages in the back (like crosswords) for even more. With a younger child, these could easily be used as oral work with the parent noting the child's answers--there is a lot of writing.
We chose to discuss the lessons orally for now--even Baby Britches was able to answer some of the questions.
What Are our Thoughts on This Product?
Both boys loved the book. The illustrations were their favorite part of it. They found some of the animal information very interesting, though they didn't really care about all the super "science-y" stuff like percentages and equations and stuff.
Pros:
*Focus on God as Creator
*Accurate Science Lessons
*Beautiful Photographs
*Diagrams for extra understanding of science topics
*Larger Text for easier reading
*Conversational Text for easy read-aloud
*Workbook to build into larger lessons
*Each Chapter Matches a Day of Creation
*Emphasis on the greatness of God by evidence of His creation
*Price ($18.95--free shipping!)
*Mention of the 7th day as being a day intended as a day of Sabbath rest to focus on God.
Cons:
*Workbook is very wordy and and the activities geared more for age 8+
*Chapter 1 focused more on God Himself rather than the 1st day of creation (Day and Night)
*Larger size makes it better for a table rather than a bookshelf for storage
It is easy to see my pros, so I want to discuss my cons a little bit.
#1 The workbook is really better suited to an older child--I would say grade 3 at the least, especially if they are going to be working on any of it independently. There is quite a bit of writing and some of the questions will need assistance from a parent for understanding. This is okay though, because the questions could easily be answered orally. But if you planned on using it with an early elementary student, you won't really be able to.
#2 Chapter 1-Day 1. "Let there be Light and there was Light...and He called the Light Day and the Dark Night..."--this chapter was more focused on God as the Creator rather than anything about this particular aspect of creation. This isn't bad per say--because the information was fabulous--but since the rest of the book analyzes each day of creation, I expected chapter 1 to do the same.
#3 Because this is a bigger book, there really is only so many places you can store it. It IS meant to be a coffee table book, which works well. But if you want to shelve it, you will have issues since it is long. It would stick out of all my bookshelves.
#4--I didn't mention this in the general cons, but for our family, the mention of eating some of the creatures as food is a con. Our family follows the biblical food laws of Genesis, Leviticus and Deuteronomy--so the camel is not clean to eat (this is mentioned in the book as being food for man) nor the Piglet Squid (also mentioned as a possible food for man). These are relatively minor, but we did have to clarify this with our boys as we were reading.
Would I Recommend This Product?
Yes! I think it is an excellent book and I know that many of my fellow homeschooling friends would love to have it as part of their resources. Even if you are NOT a homeschooler, if you are seeking a book about nature that is geared at glorifying God as the Creator, you will love it! It doesn't matter if you have children--this book is fabulous!
Having access to the Young Explorer's Club workbook for free (a pdf download), makes it even better for families--or even for Sabbath school teachers!
I would give this book as a gift because I know i would be appreciated by many and it's price is reasonable.
If you want a "neutral" view of natural science or one that includes other ideas besides Intelligent Design, this book is NOT for you.
Want to Learn More?
I reviewed Purposeful Design: Understanding the Creation( $18.95--free shipping!) by Jay Schabacker (PLUS the free Young Explorer's Club Curriculum) from Purposeful Design.
Are you curious to see how others used this beautiful book? Please check out the reviews from 74 of my fellow crew members to see their thoughts on this book.

Are you wanting to learn more about this book or it's author Jay Schabacker?
Blog:
www.Jayschabacker.blogspot.com
Facebook:
http://www.facebook.com/JaySchabackerAuthor
Twitter:
www.Twitter.com/Jayschabacker
(@Jayschabacker)
LinkedIn: Jayschab
***
I look forward to continuing to reference this book and the lessons in the workbook for future science that we will do. Right now I'm using some of the information from Chapter 5 about birds as we study our Zoology.
WHAT INTERESTS YOU THE MOST ABOUT THIS BOOK?