Well here we are in the last Friday for the month of August...how did that happen? These years just fly by in a blink anymore. I must say though, I'm looking forward to September! It's one of my favorite months here in Kentucky because it's simply beautiful!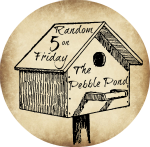 The links on this blog and in the posts may be

affiliate links

.
Please see my disclosure policy for full details and thank you for your support!
1. I've been working on lesson planning so much my eyes are about crossed! We plan on starting back to our FULL schedule(ish) this coming Tuesday (the 1st) so I've been finalizing the plans for BOTH boys. I've been looking at a lot of different planners and I've been hoping to find *just* the one I was looking for. I downloaded two of the free HUGE planners available from my membership with
SchoolhouseTeachers.com
but I didn't like them exactly. But I can take pieces of what I want and use it. I found my best luck using the
DonnaYoung.org
and her FREE planning forms.

This is a great deal!! Make sure you check it out for access to HUNDREDS of different curriculum and lesson plans!
2. I can't believe I have a Kindergartner again. Seriously. It seems like just yesterday I was gearing up to start our homeschool adventure with Kindergarten for Little Britches...and here we are 5 years later doing it all over again! I am working on sharing what Baby Britches curriculum is going to look like this year. It's much different than the kindergarten of Little Britches!
MFW-K Unit Study Week 1 All planned out!
3. Fourth grader. How do I have a fourth grader? Seriously. I remember when I was in 4th grade so it just doesn't seem possible that Little Britches is this old already! We are looking to have a great year with even MORE goodies to explore! I have his curriculum post in the works too...the main reason it's not been shared yet, is that I didn't finalize it until today. LOL!
4. We had a random week of delightful autumn weather! Oh how much I have loved having the cool weather without any humidity! Some mornings were a delightful 55 degrees and we wouldn't even get past 75! I admit I got used to it...and sadly it will go away as tomorrow we are getting back in into the upper 80's starting tomorrow and for all next week as September begins. Hopefully it will go away again and true autumn can return!
5. Have you noticed everyone (as in all the restaurants and such) are advertising pumpkin this and pumpkin that? Forget pumpkin. I am all about the apple cider. I adore the apple cider donuts that roll into Tim Hortons. Yum!
Well I hope you have a delightful weekend and final few days of August! I have Poppins Book Nook for Monday, and hopefully my curriculum posts as well. I'll also be sharing what my upcoming reviews are for the month of September, so make sure you stay tuned!
*****