Tell me I am NOT alone in being so shocked that it's already August?! August to me is like a big red flag reminding me that the year is winding down. Kids are heading back to school. Summer heats up then shifts to early fall. Gardens throw out their final hurrah. August is such a fabulous month--but I can't believe it's already here!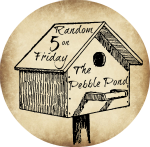 1. The Beginning of August means...Summer Camp! This is our third year for Summer Camp. Little Britches (Age 9) and I have gone the last two years and this was our third time together. He was tickled to be in B2 this year and I was thrilled to be returning as the lead counselor of G1. We adore summer camp. This year my dorm was filled with nine giggly girls aged 5-7 and boy, did I have a time! It is both exciting and yet, exhausting! I really was mommy to nine little girls for the 3 1/2 days! Thankfully I had great assistant counselors (three teen girls) who made it so much easier. But we enjoyed canoeing, fishing, archery, court games, field games, indoor games, arts n crafts, swimming and more! It's over in a blink...but everyone starts counting down for the next year!
Little Britches came over to say hello during lunch
All dressed up and ready to meet my girls!
2. The Beginning of August means...it's Baby Britches birthday! Baby Britches had his big FIFTH birthday on Wednesday (the 5th) and while I wasn't home from camp yet, I sent him birthday wishes and smooches. This year, his present was a new John Deere bike--the traditional present for a new five year old here on the farm. He was tickled to death. My mother-in-law gave him a headlight and taillight and a bell...which made it even better! My parents are sending him a Spiderman helmet which will make him so excited! I can't believe my little man is already five years old. Seems like it was just yesterday that my labor started. Sigh.
Love this boy so much!
3. The Beginning of August means...BABIES! My sister-in-law who lives in Arizona arrived with my precious niece and my husband's first cousin arrived with her new little two month old boy. So we've got babies on the farm! They arrived in hopes of being around when my other sister-in-law has her baby. Her due date was August 2nd. Well it's August 7th and baby Conway is apparently very content to just stay in his nice warm room. Everyone leaves this coming week--so we are hoping that this weekend will be the big show so they can meet him before they leave. My SIL of course is absolutely miserable and prays every night for Conway's arrival. Auntie Lisa is also eager to meet the little man. He was kind enough to wait until I came back from summer camp...but now he needs to come out! Eviction notice has been served!
Beautiful baby girl...love my niece so much!
4. The middle of August means...finalizing all our school plans! We will be starting school on September 7th, so the rest of the month is going to be all about school prep. We have plenty of supplies, but I don't quite have the curriculum finalized and things keep changing in regards to what I want to do. Next week, I will be part of the Back to Homeschool Blog Hop, so I will be talking more about our plans and such over the course of the week--so stay tuned!
5. The end of August means...it's almost time for school! I actually love gearing back up for school. I think we will have another great year because of all the fun things that are in the works. The biggest change will be that Baby Britches will be starting Kindergarten this year! I can't wait for those Back to Homeschool First Day of School photos!!