When it comes to teaching information with music, I'm all ears. We incorporate music into our school day as much as we can. My boys respond well to learning things with music and retain it very well. Today I'm sharing a review of three albums of character training themed music (
Happiness & Attitude
,
Manners & Character,
and
Friends & Sharing
) from
Happy Kids Songs
.
Product Details
Happy Kids Songs is a company devoted to producing music that is a fun and effective way to raise children's social, character and emotional skills. They have eight award winning albums dealing with things from friendship and bullying, to manners and dealing with anxiety. Each of the eight albums contain 5 songs each and are available in mp3 format for just $4.95 each.
Here are the eight albums available:
*Friends & Sharing
*Social Skills & Bullying
*Feelings & Fears
*Practice & Success
*Talking & Listening
*Manners & Character
*Happiness & Attitude
*Respect & Responsibility
These albums are geared for ages 4-8 but they are fun for the whole family.
I was given three of the album sets to review: Friends & Sharing (Set 1), Manners & Character (set 6) and Happiness & Attitude (Set 7).
I was also given the coordinating workbook Happy Kids Songs Workbook: Hands-On Activities to Build Character, Social & Emotional Skills.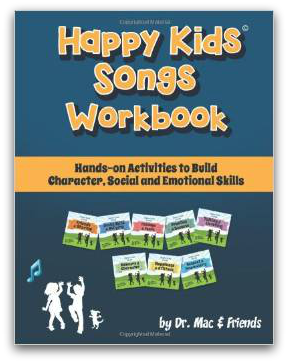 This workbook is a 125 page activity book to coordinate with all 40 songs on the albums. It has the lyrics for each song, coloring sheets or activity pages for each song, as well as hundreds of hands-on activities to teach the character lessons from arts and crafts to drama and games. The workbook retails for $12.56
How did We Use This Product?
We were sent via email the albums to download. They were in zip files and once I opened them (just the normal extract of file) they were available to play on Windows Media Player. We like to play our music on my laptop which is always in the kitchen or wherever we are doing school, so this worked well for us. I easily saved the three albums (15 songs total) as a playlist library.
You will definitely need to have a system that can open zip files and download music files easily.
I decided to just play all the songs together instead of focusing on just one album. We began by just listening to all the songs and talking about the ones we thought sounded the coolest. I just kept the songs playing off and on all day long.
The next time we listened to the songs, I used the workbook. I picked out a key song to focus on and had Little Britches follow along with the VERY easy to read lyrics.
He was able to go ahead and start singing along with the chorus this way. He said he liked that the words were easy to read.
From here on out as we listened I would have him do an activity from the workbook that coordinated to whatever song we were listening to. Some were activities like word searches and sometimes just a coloring page.
In the back of the workbook there are "lessons" that go with each album and song to explain or enhance whatever character trait is being taught. These are made up of drama, arts & Crafts, discussions and other activities.
Sample of what the extra lessons look like for two of the songs.
We did do this name game activity
We didn't do a lot of these because they really were focused more towards a classroom scenario with more than 1 or two children.
By the 2nd week of listening to the music we were starting to memorize some of the songs...
"H-O-N-E-S-T-Y...it's one of those greatest gifts that money can't buy..."

"Please....just say please..."

"Kudos what's a kudo?"

Now both boys easily sing with the chorus of many of the songs...especially their favorites.
What Are Our Thoughts About This Product?
Little Britches:
"I like the songs. Some of them are funny. They are easy to learn and fun to sing. The workbook had some fun coloring pages to do while I listened to the songs."
Baby Britches:
He liked the songs more than anything and would regularly dance while they played. H-O-N-E-S-T-Y is his definite favorite and he loves spelling out the word in the chorus.
Me:
It's music teaching character. What's not to love? Seriously though. I found the songs fun and easy to follow. The words weren't difficult to understand and having the lyrics laid out in the workbook was great. I think the workbook DEFINITELY makes the songs even better because it reinforces what is being taught.
I think that for me, the front of the book with the lyrics and activity sheets was more valuable than the back of the book; however, if I had more students to teach or was going to use this in a church Sabbath school class it would be very great to have. The activities and projects looked very fun and would definitely coordinate with the songs.
I would change a couple things--
#1 I would make it possible to get all the songs on a hard copy CD. I prefer hard copy form for things like this. I could burn the songs onto a CD, but I think having the choice of getting a physical version of the albums would be ideal. I also think it would be great to get all 40 songs on a CD.
#2 I would make it possible to JUST get the lyrics and activity sheets from the workbook. As I mentioned above, I didn't use the other because I didn't think it was really relevant for my situation. Even if they were only available as a e-file, it would be something I would consider over having the whole workbook.
#3 Make it possible to have these as a split-track so that they could be performed for church. I would love to use some of these for children's choir songs!
Would I Recommend This Product?
If you are seeking ways to reinforce character development in a more creative way, this is a good choice. The words of the songs stick to you and can be called upon for reflection later. These are also just good songs to have for your children to listen to in the this world of un-godly music. I will continue to play our 15 song playlist regularly.
If you have a co-op or a Sabbath school, I HIGHLY recommend this program because when put together with the workbook--ESPECIALLY the section in the back, as there are a lot of great group activities and crafts to go with the songs.
Will we purchase any more of the albums to add to the three we received? I don't know. Maybe. It's not something I think we "have to have" but something that would just be fun to add if I had the extra money.
Want to Know More?
I reviewed three song sets (Friends & Sharing, Happiness & Attitude, and Manners & Character) each retailing for $4.95, as well as the coordinating Happy Kids Songs Workbook: Hands-On Activities to Build Character, Social & Emotional Skills ($12.56)from Happy Kids Songs.
We had 100 members of our team review this product--why don't you check out what a few of them had to say about it too!

To learn more and to stay on top of new product and sales, follow Happy Kids Songs on social media!
Facebook
:
http://www.facebook.com/happykidssongs
Twitter:
@howsyourfam
YouTube
:
http://www.youtube.com/user/4DrMacMusic
**
Thanks for stopping by for another product review! Remember that you can always find my full list of anything I review like this on my
curriculum and product reviews page
. I have another review to share tomorrow! It is about a great downloadable software program to help your kids with math!