The links on this blog and in the posts may be

affiliate links

.
Please see my
disclosure policy
for full details and thank you for your support!
I have always found that bible studies with children go best when you can get them involved...especially if there is pictures.
Grapevine Studies
provides a bible curriculum designed with that idea in mind. We recently reviewed their New Testament Overview Part 1 (specifically
New Testament 1: Level 1 Birth of John to Jesus' Ministry
,
New Testament 1: Level 2 Birth of John to Jesus' Ministry
, and
New Testament 1: Beginner John to the Apostles
) with our boys ages 5 and 10.
Product Summary
Grapevine Studies
is a leading Bible method and curriculum for teachers desiring to teach biblical studies with simple, practical, and easy to implement studies for children of all ages. Their method for the early students of "Hear-Draw-Review" ensures an understanding of the stories even from a pre-school age. As the child gets older, the program switches to a Read-Draw-Review approach to encourage them to dive into the Bible themselves. One thing that sets the curriculum apart is the use of simple stick figures to help share the Bible stories! With simple drawings, even the youngest bible student can document the stories they are learning! All of the products are available as printed or digital books.
The company has this great graphic to give you an idea on how the program changes in difficulty with each level...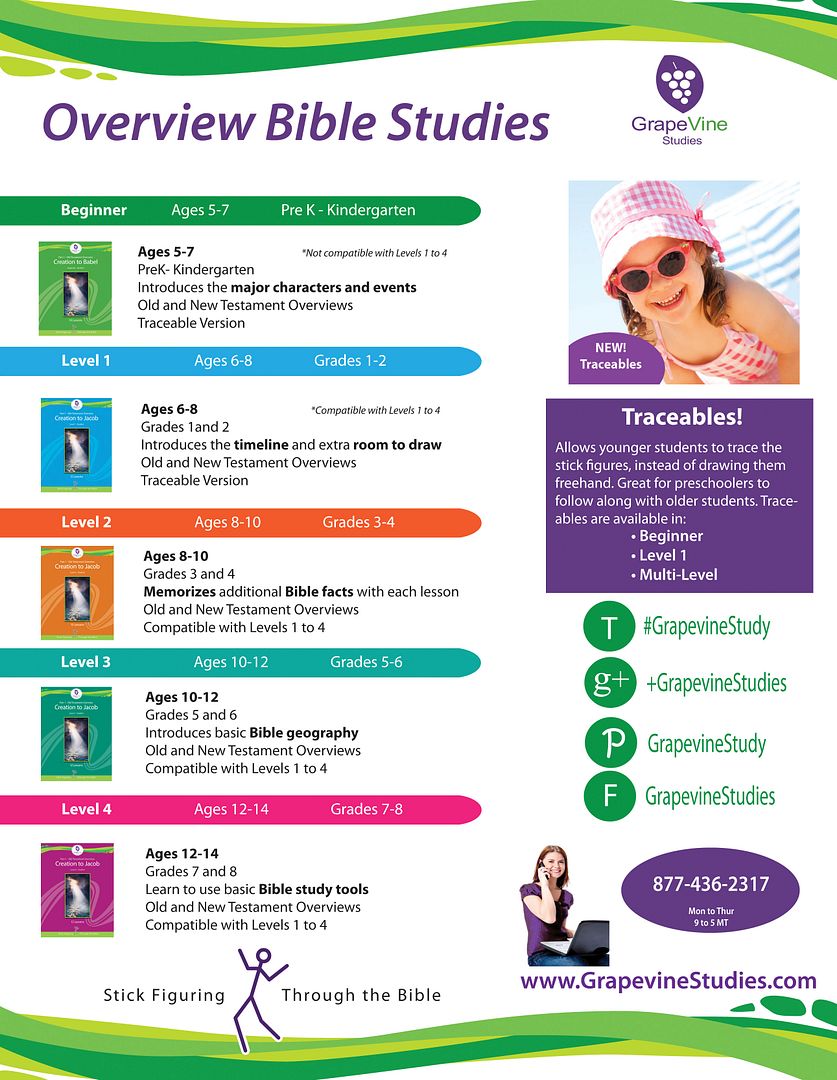 Grapevine Studies offers the following curriculum:
*Biblical Feasts and Holy Days
*Birth of Jesus
*Esther
*Joseph
*New Testament Overview (7 units)
--John to the Apostles
--Birth of John to Jesus' Ministry
--Jesus' Ministry
--Jesus' Ministry to His Trials
--Jesus' Last Week
--The Cross to the Upper Room
--Acts to Revelation
*New Testament Catechism
*Old Testament Overview (8 units)
--Creation to Babel
--Creation to Jacob
--Abraham to the Tabernacle
--Joseph to the Promised Land
--The Twelve Spies to Solomon
--The Jordan River to the Temple
--The Temple to Nehemiah
--The Prophets to Nehemiah
*Old Testament Catechism
*Ruth
*The Resurrection
*Timelines (6 different units)
*Moses and the Exodus
Each unit contains from 9 to 14 weekly lessons which are laid out for you in a very easy to each manner. In fact, the company provides you instruction on How To Teach their program to make it even easier for you to get started. You can also visit their website to figure out which level to start with!
There are several levels within each unit which can be purchased to match the age range and ability of your child:
Traceables (Age 3-5)
Beginners (Age 5-7)
Level 1 (Age 6-8)
Level 2 (Age 8-10)
Level 3 (Age 10-13)
Level 4 (Age 13+)
Multi-Level (Age 7+)
We were given the digital downloadable curriculum for New Testament 1: Beginner John to Apostles, as well as the traceable version of New Testament 1: Level 1 Birth of John to Jesus' Ministry, New Testament 1: Level 2 Birth of John to Jesus' Ministry, and the accompanying teacher books. All were downloadable e-Books. We reviewed these with our boys age 5 and 10.
How Did We Use This Product?
I initially picked the NT 1: Beginner John to Apostles, not realizing (aka. READING on the website. LOL) that it wouldn't be compatible with the NT 1: Level 2 Birth of John to Jesus' Ministry that I was going to use with Little Britches. I think I thought it was the Level 1 Traceable version which IS compatible, and what we used last year.
The NT 1: Beginner John to Apostles uses the same method as the others, except it is geared specifically for ages 3-5 and not available in a higher level. It is traceable (though also available blank for independent drawing) and ideal for introducing the NT stories to preschool and Kindergarten aged kiddos. It has 11 weekly lessons and contains memory verses and reviews. This will take you from the birth of John to the choosing of the Apostles.
After looking at what I had printed off and comparing it to the Level 2 that I had printed off, I realized it wasn't going to work for us as a simultaneous lesson! Fortunately, Grapevine generously had sent over the Level 1 Traceable version with the Level 2. This allowed us not to lose any time as we switched over to the Level 1 Traceable for Baby Britches, so he could work in unison with Little Britches. This makes it much much easier for me to teach them together.
As I did
the last time we used the program for review
, I printed out the boys' lesson pages and kept them in a 3 hole binder. This time, however, I kept the Teachers manual on my Kindle for reference which saved me a lot of printing!
This is the suggested schedule for the program:
Daily Schedule
Day 1: Timeline Review Page
Day 2: Lesson page 1
Day 3: Lesson page 2
Day 4: Student Drawing Page
With a Weekly Schedule suggestion of:
Timeline Review (5-10 minutes)
Lesson Pages 1 and 2 (30-35 minutes)
Student Drawing Page (5-15 minutes)
We operate on four day a week school routine with half days on Fridays, thus this schedule from Grapevine fits very well into our routine. There are some days I might mix Day 1 with Day 2's work, but that was dependent on how quickly the boys finished their Timeline reviews.
There aren't many supplies required for the program. Each curriculum shares the supplies needed to teach the program--it's pretty simple:
Student: Bible, Colored Pencils, Student or Traceable Book
Teacher: Bible, Bible Dictionary, Dry Erase Board & Markers (8 colors), and the Teacher Book
If you don't have a dry erase board, then a big sketch pad and colored pencils or markers would work perfectly fine. We just happen to have a big dry erase board.
This is an open and go product, as the teacher book shares notes on how to go about teaching the curriculum, as well as little tips to remember. It describes what each portion of the lesson is for and how it can be done. It also gives you visuals of what the child's completed work will/should look like in every day's lesson. There is no guessing on what they need to do. It tells you!
Elizabeth and Zacharias and Zacharias visited by Gabriel
The curriculum began with a timeline narration that goes over all the events (drawings) that will be covered in detail throughout the course of the curriculum. Once this is done (takes about a week of doing a page a day), you start the normal lesson plan schedule that I mentioned above.
As of today, we are finishing up our 5th week of working on this curriculum. We will be starting Lesson 5 next week. We have been working on this product 3-4 days a week.
What Are Our Thoughts On This Product?
We all enjoy this product! The boys would remind me when it was time to pull it out. They liked drawing the pictures best of all. I find that Little Britches is able to answer the lesson review questions a lot better than his little brother (as expected), but both of them do well in their overall memory of the lessons.
This program is very easy to implement and truly only takes 15-20 minutes tops to do. We tried to follow the basic schedule that was provided in the teachers guide just as we did last year.
I made a few revisions to the stick figures in this unit (the angels, and a few other minor things)--but these are just related to our own personal beliefs, and not something that others might necessarily do. This is why this program is really great--you can adapt it if you need to, in order to meet your needs.
Shepherds hearing angels singing
We chose not to really do anything with the vocabulary, although I would ask them random questions relating to their meanings if I was curious if they knew a term.
The boys enjoyed doing the event cards as usual, and they always add far more than whatever was part of the original stick figure.
The program includes a section review to go over everything covered after week 6, and then again after week 12. This is just a couple pages of nothing but questions--can be done orally or written--and then a couple timeline reviews. I like to have Little Britches write his answers down (they are all short answer) and I have Baby Britches give me his answers orally. This is a great way to check their comprehension of the stories that we went over.
Each of the units sells for about $28 ($18 for Teacher e-Book, $10 for Student e-Book) which may be a bit steep for my budget if I want to continue to do the curriculum for several future units; however, it's a 10-14 week curriculum, so it's going to provide lessons over a few months, not to mention that it is really a very good program and reusable (if you go with the digital version), which makes the cost much more frugal!
I really don't have anything seriously negative to say about the program, because it has worked well for us so far!
Will we continue to use this curriculum?
Yes! I plan on using it to completion and then possibly picking another one from their unit studies.
Would We Recommend This Product?
Yes, I would! I think that if you are looking for a program that does the "hard work" for you by laying out the stories in small pieces for easy retention, this is perfect! If you want a program that incorporates memory work, this is a great one! If you want it to be fairly open-and-go, this is it! If you want to do one unit with age appropriate work for each child, this would be something to check out! I really appreciate that I can do the same program with both boys, yet have age appropriate work for them. I also love that it's designed to have material for even the very young--beginning at age 3 with the traceable options.


Want to Know More?

Want to stay up to date on the latest releases and sales from Grapevine Studies? Make sure you get connected on these social media outlets.
Facebook:
https://www.facebook.com/GrapevineStudies
Twitter:
https://twitter.com/grapevinestudy
Pinterest:
https://www.pinterest.com/grapevinestudy/
Google+:
https://plus.google.com/u/0/+Grapevinestudies/posts
Periscope:
@Grapevine Studies
***
I am so happy that this program worked for us as well as the previous unit study did. I will continue to be recommending Grapevine Studies to anyone looking for a simple and effective biblical program to use across a wide age range of students. It's fun too!
***