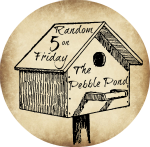 The links on this blog and in the posts may be

affiliate links

.
Please see my disclosure policy for full details and thank you for your support!
1. It's been a lovely week and oh how it has been just like spring! I am so glad that winter finally is past and I can look forward to more of these weeks. It was in the 60-70 range all week and even the nights were no cooler than a mid-50's! Some of the early flowers have decided it's time to bloom, and crocus and daffodils are bringing splashes of color to the barren fields and hills.
2. I was very happy to place my orders for seeds and transplants this week. We are going with four different companies this year--each providing heirloom and/or organic and non-GMO products. My first order came in today and I had fun reading the packages to start thinking ahead to the planting of each item.
3. We aren't very traditional in our garden choices. We like to go outside the normal selections for produce. That's why we get things like beet blends and rainbow carrots. We love the variety that is available with heirloom seeds. Old varieties that have been passed down from generation to generation. We find the flavors in these are phenomenal compared to the standard garden variety. This year, I went with blends in the summer squash, carrots, lettuce, and beets. I look forward to seeing how they grow and then what the different flavors will be! And just serving rainbow carrots makes me happy---the colors are simply fabulous!
4. It was definitely a week for deliveries and happy mail. Just this week I received a seed order, my
fractionated coconut oil
order, the
suspenders
I ordered for Baby Britches, a USBORNE book order, and my Trades of Hope order. I also received a wedding invitation, a bridal shower invitation, and a couple cards. Happy mail is just the thing to brighten one's day!
5. I am so thankful for my
Sabbath
. We eagerly welcome it every Friday night at sunset. It means a time of rest. A time of worship. A time for family togetherness. A time for fellowship. Our bodies crave it by the time Friday rolls around and we are so blessed to be able to keep it in peace. Making our Friday night Sabbath dinner brings me such joy and the boys look forward to it so much, just as I did when I was a child. I love the extra time for family snuggles. For family talks. And then our time with brethren as we worship together at church. We all are so happy to see one another and celebrate our joy in being able to fellowship together. I know everyone at church looks just as forward to it as we do. It's a wonderful 24 hr period of peace. No outside distractions. It's absolutely wonderful!
Have a most blessed weekend. Don't forget that Daylight Savings Time begins this weekend! Spring your clock forward an hour before you go to bed tomorrow night! I am so ready for longer nights again!
*****